INS Sumedha : Un exemple de collaboration maritime et de sécurité en Namibie
---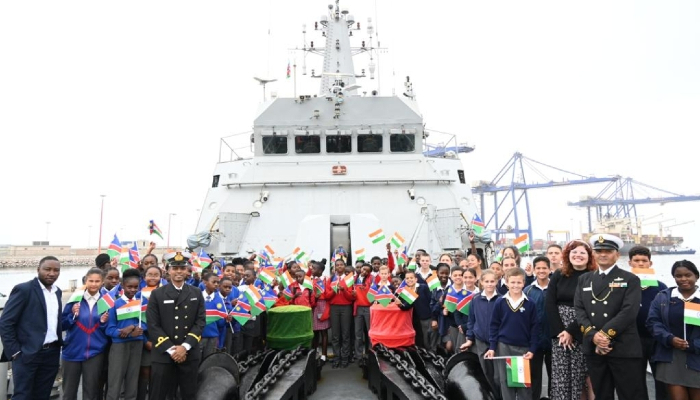 La Marine indienne s'efforce de construire des "Ponts d'Amitié" lors de ses déploiements opérationnels.
Amidst the cerulean waves of the Atlantic, the Indian Navy's INS Sumedha gracefully docked at Walvis Bay, Namibia, from November 10 to 13, 2023. This visit was not just a mere stopover but a significant stride in strengthening India's maritime diplomacy under its mission-based deployment to West Africa and the Atlantic.

The INS Sumedha, an indigenously developed Naval Offshore Patrol Vessel (NOPV) of the Saryu class, is a testament to India's advanced naval capabilities and commitment to global maritime security. The vessel's presence in Namibia symbolized the warm and enduring ties between India and Namibia, rooted in shared democratic values and a mutual drive for development and secularism.

During this visit, the Commanding Officer of INS Sumedha extended courtesies to various Namibian dignitaries and senior defense officers. The interactions encompassed an array of professional exchanges, sharing best practices and insights, which are fundamental in strengthening bilateral maritime cooperation. The ship's crew also engaged in cross-deck visits and social engagements with their counterparts from the Namibia Navy, fostering camaraderie and understanding between the two naval forces.

The Indian Navy, through such deployments, endeavors to build 'Bridges of Friendship' and augment international cooperation. The deployment to Namibia particularly cherishes India's solidarity with friendly nations, bolstering existing bonds of friendship. The diverse capabilities of INS Sumedha, ranging from fleet support operations to coastal and offshore patrolling, ocean surveillance, and humanitarian assistance, were on full display during this visit. Notably, the ship played a crucial role in Operation Kaveri for the evacuation of the Indian diaspora from war-torn Sudan in April 2023.

Furthermore, the vessel's goodwill visit to Walvis Bay was marked by a series of successful interactions and cultural exchanges. A reception onboard the INS Sumedha brought together Indian and Namibian dignitaries, highlighting the deep mutual respect and cooperation. Additionally, the ship's crew organized a medical camp and sessions on Yoga and Ayurveda, exemplifying India's holistic approach to international relations and its dedication to shared human values.

Prior to its arrival in Namibia, INS Sumedha made a port call at Port Luanda in Angola, participating in a Maritime Partnership Exercise (MPX), further emphasizing its role in enhancing regional maritime security. This operational deployment in the Gulf of Guinea showcases the Indian Navy's commitment to ensuring safe seas and secure maritime pathways, vital for global trade and cooperation.

The visit also furthers the strategic significance of the Gulf of Guinea for global maritime security. As a vital shipping lane rich in natural resources, it has increasingly become a focal point for international naval operations, particularly in countering piracy and ensuring safe passage for commercial vessels. The deployment of INS Sumedha in this region signals India's readiness to contribute to global maritime stability and its recognition of the Gulf's importance in international trade and geopolitics.

India's naval diplomacy, particularly through such deployments, serves a dual purpose. Firstly, it demonstrates the country's growing capability and willingness to be a responsible stakeholder in the international maritime order. Secondly, it helps to establish India as a security provider in the Indian Ocean Region (IOR) and beyond, a strategic necessity in the face of evolving geopolitical dynamics.